Queen of Hearts Game Boards
The wildly successful raffle / drawing / card / board game you've likely heard about in the news, The Queen of Hearts, can now be a part of your marketing and promotion strategy. These games can create massive jackpots - often into the millions.

AM Graphic's Queen of Hearts boards make adding this game to your marketing or promotion strategy EASY.
Excellent way to attract new and repeat business at your establishment.
All cards are numbered and sealed into the board.
The only way to reveal the face of the card is to cut it out of the board.
Board dimensions: 25.5"W x 38"H
FREE Shipping to the 50 continental US states
1 board for $90 two for $175
Raffle Tickets and a Tumbler may be required by law, and are not included with this price.

Custom / Branded designs available upon special request. Feel free to contact us with any questions.



Call 330-799-7319 to place an order by phone.
CLICK HERE to submit an order request online!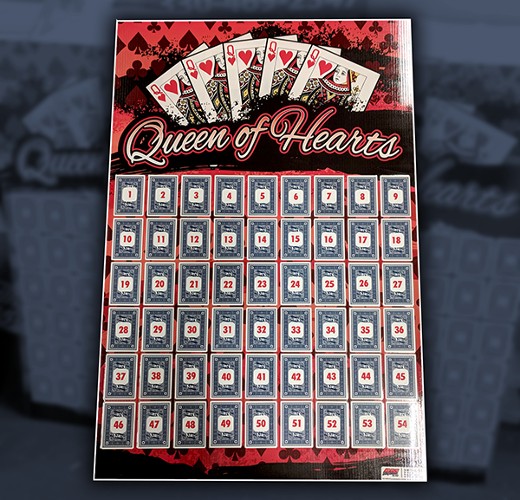 A Google search can offer many ideas on different ways to run the game, but please check with your relevant local legal office for any regulations or restrictions regarding the Queen of Hearts Raffle.

In Ohio, the AG office has issued the following statement about the legality of The Queen of Hearts game.
Click to read the Ohio AG statement on Queen of Hearts games

Disclaimer: AM Graphics makes no claim to the legality of how you use this Queen of Herats gaming board, and will not be held liable for any misuse. Please check with local and federal goverment offices including the IRS requirements of your winning customers.